Big Hearts, Big Impact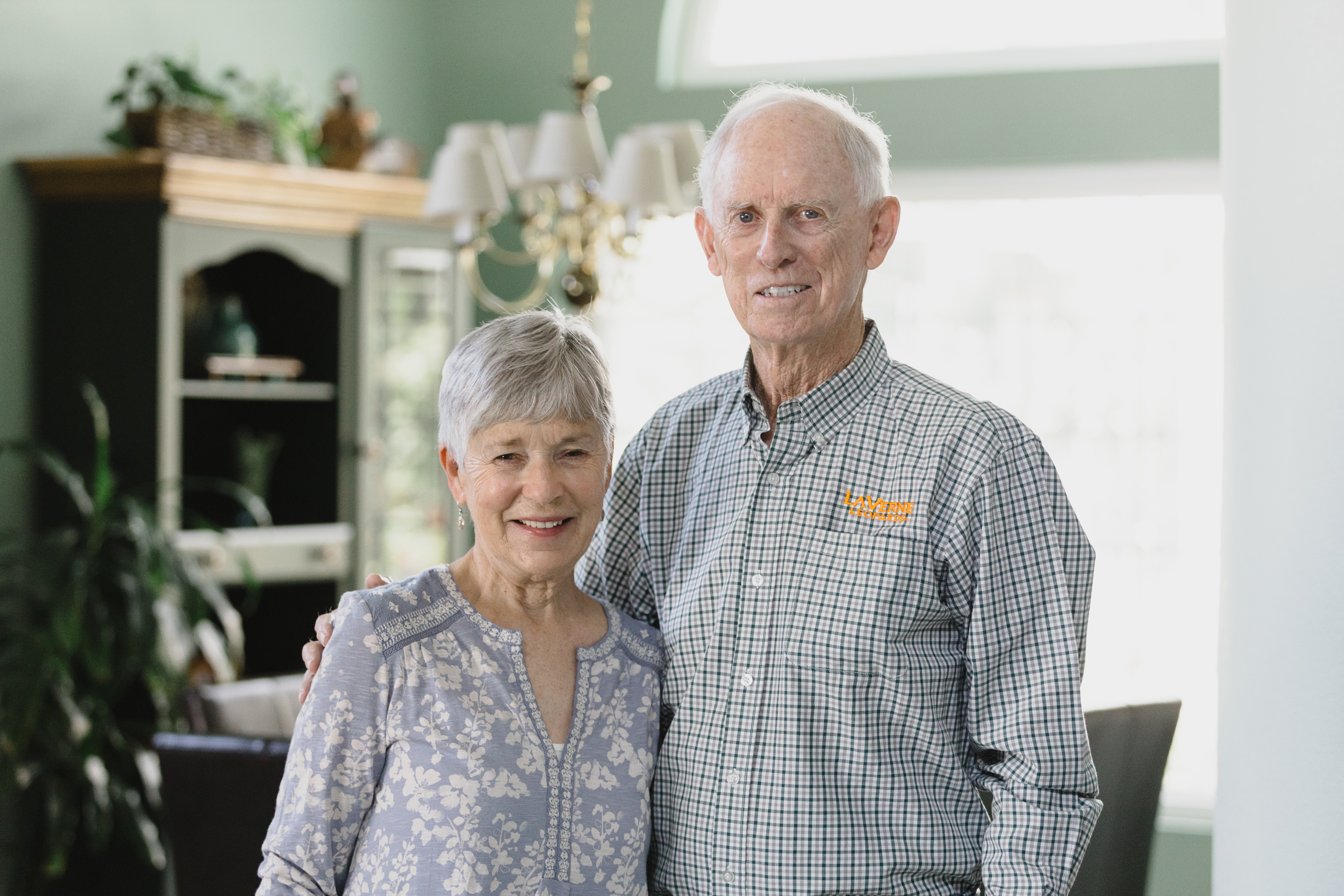 Bob Dyer '63 and Sue Dyer '64
The Leo community is accustomed to seeing Bob Dyer '63 and Sue Dyer '64 around campus. The Dyers have attended every Homecoming and Family Weekend since they graduated and are frequently seen at other university events. Bob has served as the announcer for football for 32 years and men's basketball for 29 years; hearing him shout out, "Welcome to Ortmayer Stadium, home of exciting Leo football!" from the announcer booth is what spurs Leos to cheer on their home team. 
Yet, it isn't the Dyers' cheery faces or Bob's golden voice that they will be most remembered for. Instead, their biggest legacy will be their hearts.
Bob and Sue are the epitome of what it means to be "Leos for Life." They met each other while undergraduate students at La Verne College and got married in Sue's senior year. After graduating, both became teachers: Sue taught grades K–3 in the Bonita Unified School District for 30 years while Bob became a junior high school physical education instructor for Chino Valley Unified School District, teaching for nearly 40 years. Bob has served on the University of La Verne's Board of Trustees since 2014 and has been president of the La Verne Athletics Association (LVAA) since 1985. 
When it came to making a gift to their beloved university, the Dyers didn't think they could do much beyond their monthly donations. After all, they made a modest living as teachers. However, after learning of various ways they could make a planned gift, they decided to take out a life insurance policy that would benefit the university upon both of their passing. For a fraction of the price, the Dyers will be making a substantial six-figure gift that they would not otherwise have been able to make. 
Looking back, Bob reflects: "The University of La Verne, particularly its athletics program, had such a big impact on my life. I met Sue here, and we have lots of friends that we've kept in contact with for years. It felt like the right thing to do, supporting the school so that others can have the great experience that we've had."
Sue agrees and adds: "The university has grown quite a bit since our day, and we love the direction it's going in now. We're so impressed with all the new things they've done, like helping first-generation college students succeed. At the same time, they've kept that family feeling that Bob and I loved so much—that ethos of caring for the whole student and looking after not just our academic interests, but our social, physical, and spiritual well-being. I think they really try to walk their walk, and that's very important."
They're pleased that life insurance gave them an affordable way to make a large gift, and they only wish they could give more. Says Sue: "Bob jokes that if we win the lottery, the University of La Verne will be getting a lot of it!"
Learn more about life insurance gifts here.